There are several fortunes that one person can meet during his lifetime such as meeting a good teacher when at school, a great predecessor when at work. On the way leading to success, you may have a chance to connect with special ones like that. The meaning of "Teacher" is not narrowly relating to a normal knowledge conveyor but also a trusting friend, a guiding person who gives you direction, instruction & inspiration to help you become a "better version" of yourself.
In Vietnamese culture, we have an annual special day on 20th November to honor teachers. On that day, students throughout the country visit their teachers' homes, give thanks cards/flowers/gifts to show their gratitude and respect. Being a software outsourcing company, we don't have "teachers" in literal meaning but we have a lot of "mentors" who deserve to be respected. Hence, VietIS has held a warming tea break party for these internal mentors on 19th November.
Currently, we have almost 20 internal mentors in which 15% of them have grown up from Fresher (the one who has non-experienced or little and needed to be trained). After 4-5 years working at VietIS, they are so skillful and have enough ability to become the next generation of VietIS mentor team. The resilient work of internal lecturers has contributed to making up the capable staff and officers and enabled VietIS to continuously expand our scale and develop rapidly.
In confrontation with the complicated Covid-19 epidemic situation, instead of direct teaching, training courses must be transformed into online training that requires mentors to update technological knowledge and new skills. I am so glad that even in difficulties, training activities in our company still occur favorably and frequently.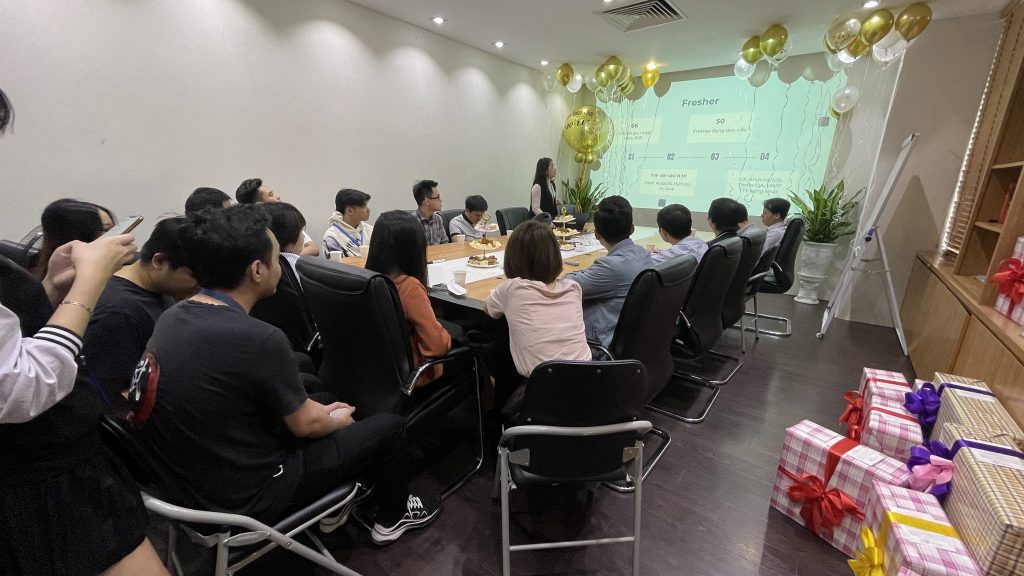 On behalf of The Board of Directors, Mr. Dang Dieu Linh gave a speech to thank VietIS's internal mentor team for their contribution and dedication during 2021 and granted special gifts to each of them. He hopes that the mentor team would keep a high spirit of sharing and acknowledge valuable know-how through the company.
Lastly, VietIS would like to send the best wishes to all the teachers as well as the team of internal lecturers. You are such valuable diamonds of our company!